A Greek writer, philosopher and humanist Nikos Kazantzakis was a colorful figure of the 20th-century. His viewpoint is broad, each of his works is psychological and philosophical- loaded with symbols. Kazantzakis as an author is not easy to understand. Also such are the records of his travels.
Crete, Greece
N. Kazantzakis was born on  island of Crete in a small town (Heraklion), in 1893. He was educated in Athens and Paris universities. He is the author of 13 novels and 22 dramas.
Kazantzakis translated from ancient to modern Greek the "Iliad "and"Odyssey". He also translated from Italian (e.g. The "Divine Comedy ") and German (Goethe, Nietzsche).
Besides European languages, as we see from his autobiographical book, "Confession to Greco", Nikos was interested in the ancient Hebrew language from his early years, to read the Old Testament in the original.
Unfortunately, he had to refuse to take lessons from a Jewish Rabbi from the beginning due to some common anti-Semitic sentiments among his relatives, though, his travel books in Soviet Russia, he called "Toda Raba"which in Hebrew means "gratitude
Kazantzakis died in Freiburg in 1957. Later, he was reburied in Crete, where he is buried outside the wall of an Orthodox church.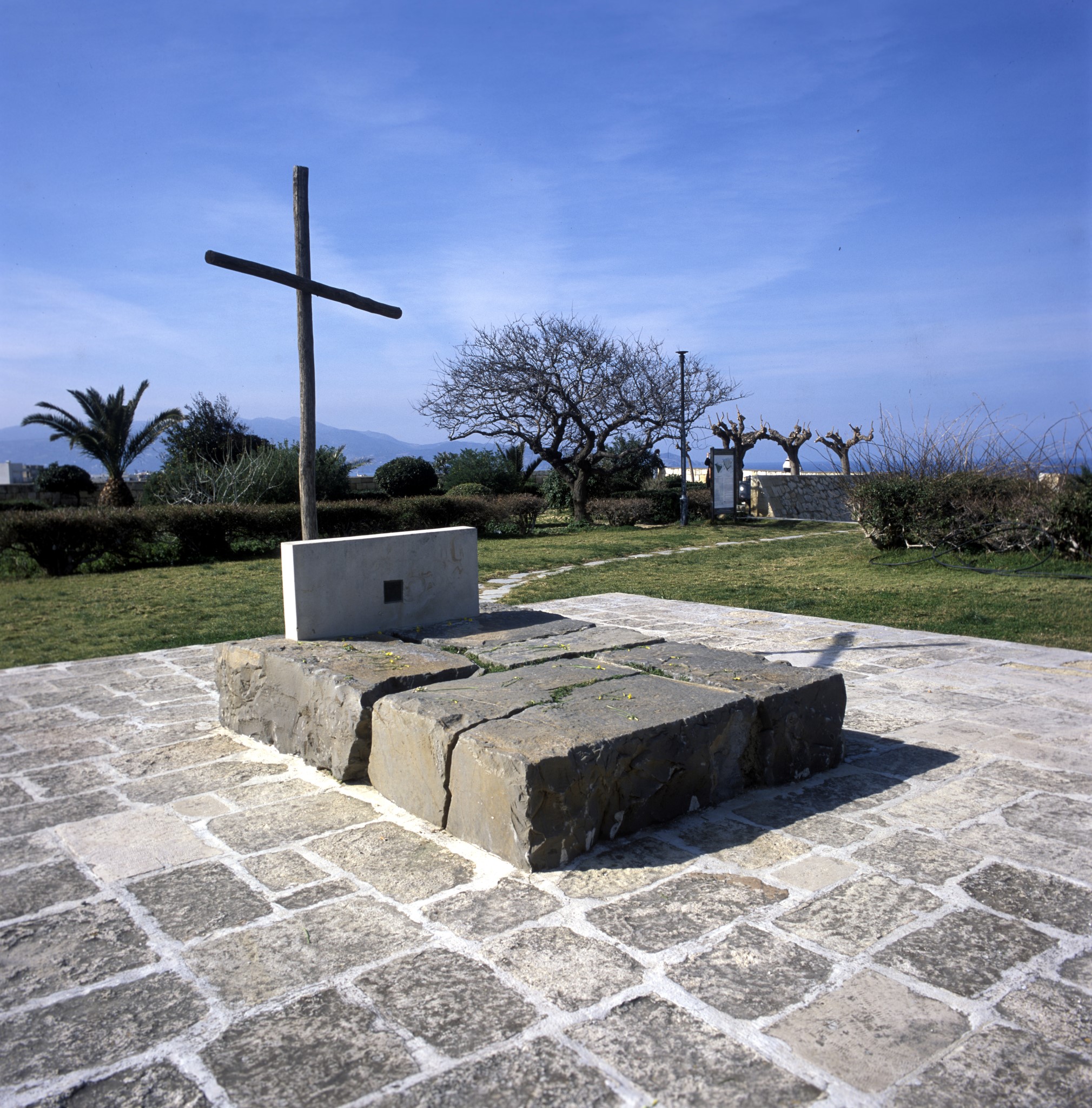 Grave of Nikos Kazantzakis , Crete
The writer`s philosophy was greatly influenced by Bergson and Fr. Nietzsche. N. Kazantzakis wrote:
"I used to go and listen to Bergson's magical voice … his words were like a bewitching incantation; A small door would open to the inevitability of the insides and light would penetrate into it."
As for Fr. Nietzsche he recalled the following:
" Nietzsche fed me to lion's food, at the most critical hungry moment of my youth."
In 1923 Kazantzakis wrote a little and strange book "Asceza "(same "Salvatores Dei"). In this specific kind of work, the writer confronted philosophical issues of the humanity (human nature, its place in the universe, responsibility, God, race, ancestors, and so on…)
This small but roomy book, Kazantzakis revealed such free thinking, especially in the interpretation of God and the faith in God that he was strongly criticized.
For Kazantzakis as a thinker and writer the ideal role model was a great artist El Greco of Cretan origin (Doménikos Theotokópoulos), who had escaped from the narrow frames, established himself in Spain, but remained faithful to his island and roots to the end of his life.
To a certain extent, Kazantzakis identifies himself with El Greco. When he wrote the following about El Greco, perhaps, he meant himself:
"It is natural, that such (similar to El Greco, V.K.) artists were considered to be crazy by their contemporaries: because, those who envisage things twenty-four hours before they happen are considered crazy. Greco was considered to be craze for two and a half centuries … And now, we declare him our leader"
"The Saviour" by El Greco
Now, let's discuss several trips of the writer in Georgia:
In 1919 Nikos Kazantzakis visited Georgia for the first time. Then he (probably the only time in his life) arrived to Georgia in the status of a public official.
The writer agreed to the Greek Ministry of Social Affairs to be its representative, in the plight of repatriation of the Pontus Greeks to their homeland.
The writer explained his consent in the following way: "I agreed after having understood modern problems connected to the centuries old passions of Greece, I raised present tragic case to a symbol and agreed" (a line by the author).
In 1914-1918 large number of ethnic Greeks left Turkey and gathered in Georgia's port city Batumi. In 1919, it became clear that there could take place aggression from the north against independent Georgia. It became necessary to repatriate ethnic Pontus Greeks to their historical homeland, however, the Greek government was not ready for that.
July 24, 1919, N. Kazantzakis together with his co-workers and friends, arrived in Batumi. Chrysanthos, Metropolitan of Trabzon also accompanied him. He was against, the mass return of the Greeks to their historic homeland.
The Metropolitan believed that Pontus would be totally emptied from the Greeks. Chrysanthos studied locally  the issue of autocephaly of the Georgian Church and published an article  about it in the Greek Church press, (Canceled by the Russian Empire in 1811 Autocephaly of Georgian Church, was restored by the Georgian Church in March, 1917.)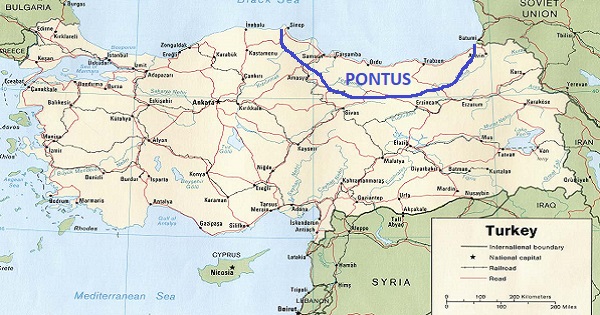 Pontus (region), Turkey
Kazantzakis, in his turn, believed that due to multiple  threats keeping  the Greeks on place was inappropriate and Greece must do everything to return the Greeks to their homeland.  Writer spent two weeks in Georgia. N. Kazantzakis described the seen very briefly in details.
According to him, Georgia was
shadowed by the mythical mountains, fertile valleys and was populated with human species beautiful in every way
His first visit was the beginning of his introduction to Georgia. In 1927, the Soviet government invited Kazantzakis to the Soviet Union forthe ten-year anniversary of the revolution, along with other writers.
From Moscow N. Kazantzakis together with a writer Panait Istratis departed to Georgia.
He wrote :
"Did not even notice how we reached the capital of Georgia, Tbilisi, with the most wonderful people in the world … We felt a tremendous joy; as if we have travelled from one edge of the soul to the other."
From Tbilisi Kazantzakis again travelled to Batumi.
During that visit, he met Giorgi Leonidze a Georgian writer and poet. In his letter sent from Batumi (28. 11. 1927) as the other writers and poets to his woman friend El Lampridis, Kazantzakis wrote:
"yesterday evening … at Tbilisi station two people embraced each other, they did not want to part, because they felt that the meaning of life would be lost, living without each other. These two people were: the poet George Leonidze and me. He knew only Georgian  and I was trying to communicate in few words I have learned all the warmth which I had in my heart."
N. Kazantzakis, unfortunately (for terms of security), does not mention in the letter an interesting fact that he baptized one of Leonidze`s daughters as a sign of respect to him.
Among other Kazantzakis travels to Georgia, the third visit happened to be the longest and most interesting.
N. Kazantzakis stayed in Georgia in 1928 from August through December. During that trip, he visited Tbilisi, Borjomi, Sukhumi and New Athos
His impressions are given in book with a strange title "Toda Raba", by some symbols and generalizations.
Traditional description of national table (beautiful women, wine, barbecue, singing, folk musical instruments), as well as the nature (green and twisted river Mtkvari, the Black Sea, evergreen palm and banana trees), old churches and Tbilisi sulfur baths, only came as a background for the main story that the author wants to tell us.
Also, very briefly and in general he tells historical past.
The writer united images of the celebrated kings of different eras in one person,the legendary Queen Tamar.
In particular, 5th century king Vakhtang and his falcon, the mythological image of Tamar and epitaph of David IV Builder he combined in one person – Queen Tamar.
The writer was interested in completely different things, in what was happening in Soviet Georgia, which was enforced in the union with the Republic of Armenia and Azerbaijan, by the name of "Transcaucasian Soviet Socialist Republic" (1922-1936).
Although the writer says nothing directly about this republic, but the fact that three characters of his narrative operate simultaneously in Tbilisi and are representatives of three different nations and republics (according to the names and other characteristic traits), speaks for it.
Georgians in the book, in our opinion, are presented by a generalized person – Levan Menashvili (exactly this second name, does not exist in Georgia); Oriental (Turkic) world is presented by Azad, Armenian by – Ashot.
We are confident that N. Kazantzakis makes free generalization on each of them, giving to them characteristic national attributes, specific to the phase of history to his view.
Let's start with the first of such generalization, with Menashvili.
According to Geranos, prototype of the writer: "he is a poet full of wounds and a fanatic Georgian".
Levan Menashvili seemingly is an image of a historical Georgian and the epitome of the 1924 anti-Soviet uprising, too. Here, there are blended the reality and a symbolic character.
Levan Menashvili tells the writer (Geranos) that his son (son, in our view, is also used symbolically) together with two hundred other young men was executed by the Bolsheviks in the wagons".
Indeed, truly in September, 1924, after the failed uprising, the Soviet government locked in railway carriages and shot with machine gunfire more than one hundred people in the western Georgian town of Zestaponi.
As Lev Trotsky recalled in the memoirs written in exile, I. Stalin, told to Russian communists after the uprising of 1924, that it was necessary to "re-plough Georgia".
Levan Menashvili, according to the main character of the book, Geranos (N. Kazantzakis) said:
" we want freedom; We (Georgians, V.K.) are neither  Communists nor reactionaries. We are Georgians".
Kazantzakis strongly sympathizes with Levan's love of Georgia's past. He writes that Levan (as a collective image of the Georgians), worships every ancient ruin, "every stone and rock".
Kazantzakis is imbued with sympathy to Levan (ancient Georgia), but openly snaps to him, that his goals: "are limited and impossible to realize."
The writer gives a harsh verdict to Georgian patriots:
"an idyllic dream is an inappropriate chimera for thinkers of independent Georgia. Georgia is situated in a key geographical and psychological areal. It is caught between two powers. The new Soviet power, which is designed to absorb the whole of Asia and the old, capitalist power, which is trying to counteract it. Poor Georgia is like a grain of wheat pressed between two huge millstones".
'Disappointed Levan calls the Greek writer a "Fatalist", however, the foreign humanist, quite cynically explains to him that: "Every new idea (in this case, the communist-socialist idea, V.K.) is an imperialist idea… Poor Menashvili! Well, look, even the most virtuous idea that was created on the earth: "love each other", when a person or people did not want it, or could not understand this love in a peaceful way, they would split their heads and plant it in their minds" .
So Geranos openly and totally sacrifices the independence of Georgia,replacing it with "a new idea".
That's why regarding Levan (same old Georgia) he several times uses the expression: "I am walking side by side with a dead man".
In other words, Georgia for Geranos is a Lamb sacrificed to a new red demon and fight is meaningless.
Exactly like this Georgia was sacrificed by "The League of Nations", December 16, 1920. Adoption of Georgia in the League of Nations needed 16 votes, but the affiliation of Georgia into the League was supported only by few European countries: Norway, Italy, Portugal and Switzerland.  Also, Georgia was sacrificed at Genoa conference in May 1922. Although at Genoa they read a memorandum by one of the leaders of independent Georgia in emigration Akaki Chkhenkeli addressed to the Italian Prime Minister Luigi Facta, as well as the appeal to the session of Conference by the head of the Church of Georgia,  Ambrosi (Khelaia), but no real results (not counting strict repressions) were reported  for Georgia after the conference.
Akaki Chkenkheli
The writer sums up Levan's description as:
"Poor Levan! He like his homeland, was a grain of wheat placed between the two millstones (sandwiched) between the bourgeoisie and the proletariat!"
N. Kazantzakis (Geranos) thus, believes that Georgia (Levan) can be saved only by accepting the new reality: "Geranos could hear his (Levan, V.K.) teeth grinding. During the whole course of history Russia and mankind sentenced him to death. At the sunset Geranos imagined Levan as one of the portraits by Greco. Eaten up, drained from blood, greenish-yellow color ghost rising from a huge swamp.
In his Credobook "Asceza"the writer also suggests an idea:
 "Learn obedience. Only those who surrender to its (obedience, V.K,) highest rhythm are free."
Now let's see, how does the writer of this book characterises the second main hero – Azad.
Azad, coming out from the name, is neither Georgian nor Armenian. The writer met him at the chaikhane of a Tbilisi Persian, Mehmet. Where blind old Suleiman told Oriental fairy stories.
Azad is a Chekist (Soviet Secret Intelligence Service Agent).
Levan, seeing him began to tremble and left Geranos. He whispered in the writer's ear: "This is a terrible Chekist who had arrested me".
Geranos got interested in Azad's personality, and for this purpose, approached him. As it turned out, this young fanatic Chekist man, was dissatisfied by contemporary Soviet realities. Not long before he had travelled all over the whole Soviet country and found everywhere fraud, hunger, dirt, sick street children.
Homeless kids in Soviet Union after revolution
Azad had addressed senior red officials with sharp criticism:
"Are you not ashamed? Did we shed blood, for these children to suffer? (He had brought a miserable sick street boy to party bosses, V.K.). I'm Azad, Chekist man, and I believe that I have the right to speak …you lazy, careerists, robbers! " He snapped to party elite.
Geranos assessed personality of Azad by his own criteria and concluded: "I like this red Don Quixote … as if walking round his old tower, beaten and happy".
Azad's cry wakens sober the writer from his heavy thoughts. A Chekist man woke up in Azad and he asked Geranos in a rough voice: "Who are you? "
Geranos realized that the question was meant to explain what was his opinion about the red revolution, current moment, etc.  And he responded accordingly: "I am admirer of the Soviets …"
The Chekist calmed down and opened his heart to the stranger. He told the writer like in confession:
We seeded blood, we reaped mud… did you see street boys like homeless dogs roaming the roads?
We would like to clarify that during this period, homeless children became a big problem in the Soviet Union.
Destroyed economy, repression, hunger, were the factors which helped to foster the emergence of a whole army of homeless children. They headed from inland provinces of Russia toward the south and reached Georgia.
Dirty, suffering children were distinguished also by aggressive behavior. Scientist Anatoly Filin having emigrated to America and who spent 20-30-ies of the XX century in Tbilisi recalls these facts
And now let's again go back to the dialogue between Geranos and Azad.
The next test and "cut off "question which Azad gives to Geranos is as follows: "Do you love Russia?" Geranos answers this question ambiguously:" I love fire, that burns Russia … "
the writer realizes that the answer may be confusing to Azad, but he also knows that he will get the answer he would like himself.
Indeed, after a brief pause, Azad swears to Geranos that they are brothers. Azad offers his new friend to travel round the whole Soviet Union and demand changes and renovations.
Before that, he offered Geranos to attend his ardent speech at the party meeting in Tbilisi. There Azad substantiates the need for a new revolution.
Indeed, Geranos attends his vital speech. At the end of the speech, Azad said naively, that he will travel to Moscow, go to the Kremlin and tell the truth there.
Azad convinced everyone that the revolutionary spirit, was swallowed by "materialistic mud".
The audience is silent. No one dares to voice objections. Here, at this point in the narrative appears the third character, ethnic Armenian Ashot (his name clearly indicates his nationality).
The writer describes this dramatic scene as follows:
"up stood Ashot, a friend of Geranos (author emphasizes that all these three characters are his friends), completely pale, dangerously excited …"Comrade Azad, was once a great revolutionary. Not anymore, way behind. Not aware of the reality. Comrade Azad, is now not a revolutionary, but a rebel… "(says he).
Geranos understands that such words are a death sentence for Azad, so he is forced to get involved in the debate:
"Comrade Ashot is in a bit of a hurry to bury the dead … (he) sees very clearly (well), but not far enough. Comrade Ashot is digging a small trench, which is before him, and he was digging it well. It would be severe to demand more from him… "
Geranos (Kazantzakis) says that he finds it very difficult to understand this situation. He makes a conclusion: "Azad's huge heart that is sighing, is the whole soviet system, it is the idea, the whole mankind which is suffering."
The Party meeting ended: "Ashot glares at Geranos with a hateful glance, silently leaving the audience and sets off to his work – Cheka. Prepares a report: Geranos identifies crisis and purity. Maybe he will become dangerous. Azad is an obstacle; speaks a lot, does not understand; We need to burn a little bit his mouth with red pepper".
Chapter of "Toda Raba", which deals with Georgia, ends with the description of the author's deep feelings and duplicated condition.
Humanist writer argued with his own self. At the same time, brings a letter of his son, where his son calls him a "wandering clown".
The narrative ends with an Indian general sentence: "I hope no longer, neither am I afraid, I'm Free".  Indeed, after this trip, Nikos Kazantzakis had never visited the Soviet Union any more.
courtesy : BrainyQuote.com
As it was mentioned above, in our opinion, the writer identified by nationalities problems existing in the 20-ies of the 20th century in Soviet Georgia.
In particular, Levan, a Georgian national, an old intellectual, was fighting for independence of Georgia and for truth both during the Tscarist monarchy and the Soviet times. In Red Georgia, he has no future and is doomed to death.
Azad is connected to oriental Azerbaijanian world. He was an ardent revolutionary, saw that Russia and the Soviet Union in ten years' time from the revolution: "immersed in blood and mud". He wants to renew and revive old revolutionary ideals. Because of this, Azad, receives annoyance and wrath of the party elite.
The third character, an ethnic Armenian Ashot was described in minimal colors. He is Azad's colleague. Both of them stand as guards of "revolution".
Azad and Ashot both are agents of the special secret police, the "Cheka" (both are fighting against similar to Levan elements), but Ashot is alien to sentiments, he strongly defends the Bolshevik course. So, strictly follows the slogan: "Those who are not with us are against us". Therefore, he strongly "denounces" both Azad and writer Geranos, a foreigner with the leftist views, who tends to be on the side of Azad.
Therefore, Ashot immediately, as soon as he detects their "deviations from the Party course" denounces them to Cheka and requests proper response.
Obviously, such a national identification, is conditional from the side of the author, however, statistical table by immigrant French author, Thierry Berishvili referred shows that in the second half of the 20s of the 20th century, majority cases of expelled members of the party (30%) were from the Communist Party of Azerbaijan.  So that Azad's deviation from the"course of the party ", is not entirely unfounded.
in this kind of specific and loaded with symbols work by the writer, we want to draw attention to several moments.
In our opinion, the name of  Nikos Kazantzakis itself, by which he is mentioned in this "Travel" book, Geranos – ((geraυo's) in ancient Greek language means " a crane".
In those chapters of  "Toda Raba", which concern Georgia, the writer makes point how to understand the name of his prototype.
In several places he characterizes Geranos as follows: "his birdlike face looks quiet (emphases is ours, V.K.). Elsewhere he compares his expression "to a starving bird"
At the same time, in our opinion, a certified in the work name "assot" should be explained according to the old Greek bases, which by the author's explanation is:"a fanatic Communist."
We make this conclusion on the bases of the fact that on one hand, there is no such name among proper names of South Caucasus confirmed, and on the other hand, in ancient Greek "asotos " means hopelessly dead, which is close to its semantics.
Crane ( Geranos in Greek)
Let's go back to "Geranos" again.
Why the author has selected "a crane" as a name for his prototype?
We assume that first of all in Greek and other mythologies it is a noble bird, and what is more important: according to the ancient Greek legend, cranes were the only witnesses of  killing of a Greek poet Ibicos, (Ibυkos), when robbers murdered him on his way from Italy to Greece.
Fr. Schiller dedicated a short story to this narrative called "The Cranes of Ibicos"  .
Maybe, the writer travelling from Greece to the Soviet Russia compared himself exactly to the "witness cranes"of the ancient Greek story, however, so that it was not clear for the Soviet censorship instantly…
The diagnosis given by a Humanist writer to Georgia, is actual even today, almost a hundred years later, due to the country's geopolitical situation. Georgians have to constantly prove that they are neither Communists nor reactionaries, that there are simply Georgians …
This Article is prepared by
Vazha Kiknadze
Author
Vazha Kiknadze is a Doctor of Historical Science. He is the author of more than 130 scientific articles and 7 monographs. Currently he is the main researcher at Iv. Javakhishvili Institute of History and Ethnology at Tbilisi State University, and professor at University of Georgia.